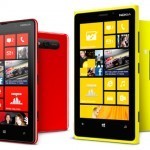 Nokia's New Lumias are Smarter Than the Average Smartphone by Gizmodo UK. Think of a modern smartphone and you probably imagine a black rectangle, running the same software and apps as everything else out there.
Nokia's exclusive will help you out when you arrive. It's an augmented reality tool that lays data about your location over the top of your camera display, letting you know what highly-rated places are nearby
Matmi ►
I really like the sound of their Augmented Reality feature. Something we at Matmi are especially keen to try due to our ongoing project in the same field.
See on www.gizmodo.co.uk